Aggies, fellow Texans and fellow Americans,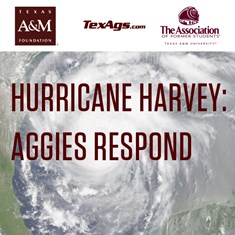 Texas Flood Relief Drive – The Western North Carolina A & M Club has organized a relief effort for the victims of the flooding in Texas. But,this is not just an Aggie effort. ALL Texas Colleges and Universities with alumni in WNC (Asheville, Hendersonvile, major cities) the Upstate of South Carolina (Greenville, Spartanburg, major cities) are participating along with the Henderson County GOP.  And, it is certainly not limited to Texans.
One of our WCAMC members, Linda McDaniel '77, has offered to pick up donated goods for flood relief and drive them in her truck and trailer to College Station next week on Thursday, Sept. 7. There it will be transferred to Rick Dubec, VP of Special Projects at MYCON Corporation, an all Aggie company, that has already taken several truckloads of relief goods to the flooded areas.
 What is needed? Bottled water, non-perishable foods, toiletries, diapers, pet food, kitty litter, tarps, bedding, clothes, shoes, toilet paper, blankets, soap, washcloths, towels, razor blades, shaving cream, tooth brushes, tampons, can openers, toys and stuffed animals, etc; i.e, anything that you would need if you were stuck in a large facility sleeping on cots while the water drains out of your house. 
Be sure to pack loose items in boxes or trash bags that are labeled with the contents. Original packaging is fine for cases of bottled water, kitty litter, toilet paper, etc.
 Where and When to deliver?  We have access to a staging area and will staff it next Tuesday and Wednesday from 10:00 AM to 7:00 PM for accepting donations. Linda will be there late Wednesday afternoon to start loading. The drop-off location is 170 Four Seasons Boulevard in Hendersonville on the corner of the building between Appleby's and Honey Baked Ham Café.
Please Spread the word –  Post this on your favorite social media and spread the word by mouth to your church and other organizations in order to cast a large net. If we collect more than Linda's large trailer can haul, we'll gladly accept the challenge of finding another truck…or trucks. 
Let's all pitch in and make this happen for our friends, families and fellow Texans back home. Please feel free to contact either Bob or Trey for further details.  
Thank you for your support.